Large-capacity backbone and data centers
ARTERIA Networks Corporation is an accredited telecommunications operator providing state-of-the-art network services through its own large capacity fiber optic cable network in Japan.We provide comprehensive corporate network services, from infrastructure such as optical fiber and data centers to dedicated lines, closed VPN, and internet access.
Telecommunication infrastructure
ARTERIA Networks Corporation has established its own high-quality optical fiber in Japan using the latest optical connection technology for provision of dedicated line services with a fully guaranteed bandwidth. We also provide connections from international submarine cable landing stations to sites in Japan. In addition, we operate six urban data centers with excellent security and facilities in Tokyo and Osaka.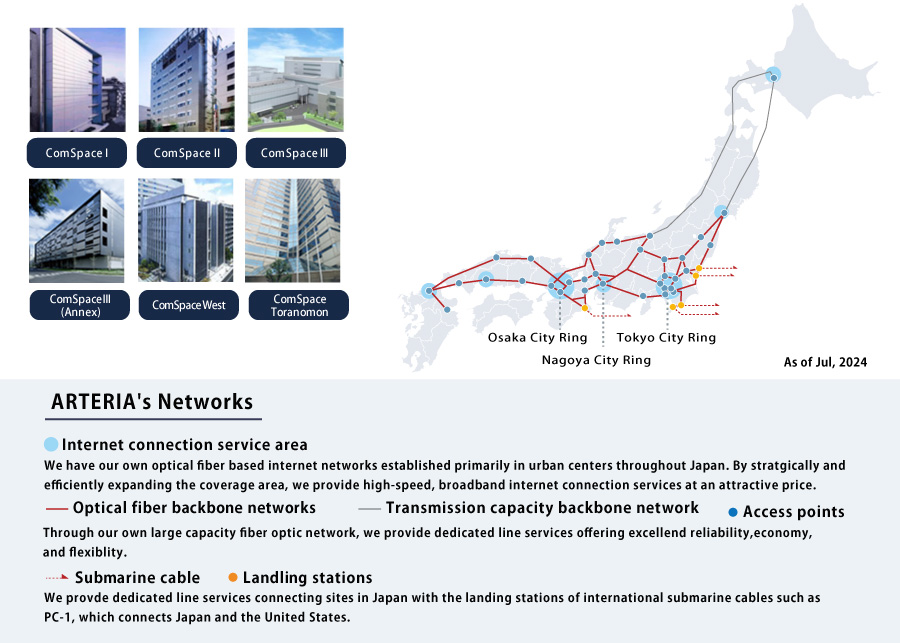 IP Backbone Networks
We provide high-speed, high-quality internet services by private peering with major ISPs and peering at main internet exchanges in Japan. Moreover, we ensure maximum availability by connecting to multiple overseas transit services and distributing risks when faults occur.