FEATURE 1

Nationwide Optical Fiber Network
ARTERIA Networks optical fiber network provides wide coverage of major cities and the areas in between them.
We provide strategic and efficient services centered on high-demand areas.

*1 As of July 2022
*2 Percentage of 90% only represents gross prefectural product of 34 prefectures (as of 2018) where ARTERIA owns its network access points / landing stations (As of May 1, 2022)
and does not represent the gross prefectural product generated by actual or potential access to ARTERIA's network
*3 This represents the number of station buildings of the FTTx (Fiber To The x) service provided by the Company.
*4 Landing station: location where a submarine or other underwater cable makes landfall.
IP Backbone Network expanding overseas
By extending our IP backbone into Asia, North America, and Europe, we are able to realize redundancy at the international level to offer high quality, low-latency services.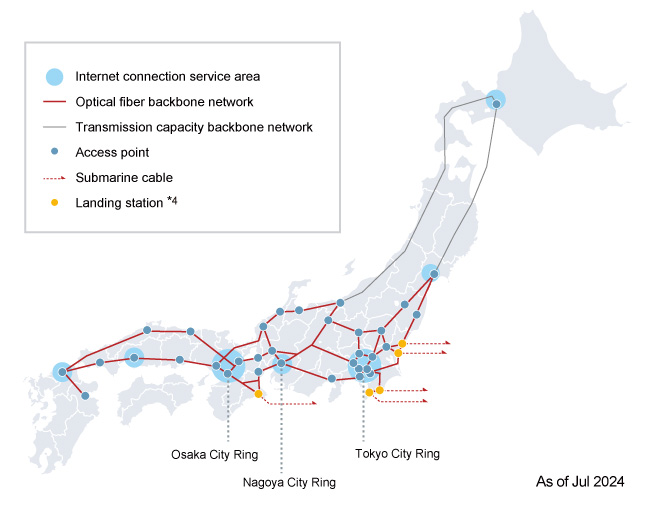 *London: scheduled for FY22
FEATURE 2

Provisioning Large Variety of Industries Leveraging Flexibility and Agility
In the course of providing a full-line of services, we have cultivated flexibility and agility that ensure high levels of customer satisfaction.
As the importance of networks continues to increase, the ARTERIA Group will demonstrate the value of our existence as a vital arterial network supporting people's lives in all kinds of ways.
High Evaluation From Customers
Providing added value through flexibility and agility
Contribute to Realizing DX of Society, and Society 5.0
Our communication services are used in various fields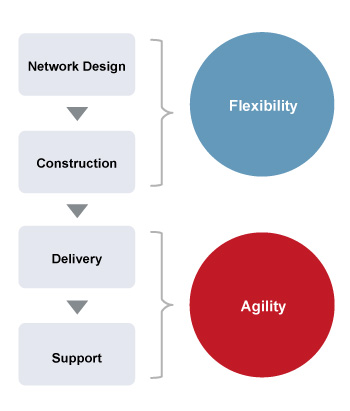 FEATURE 3

Unrivalled Leading Market Share in Building-wide ISP for Condominiums*5
(Number of paying units end of FY21: Approx. 900,000)
We have an unrivalled leading share in the newly built owned condominium market, and we are seeing increasing installations in the rental condominium market.
Unrivalled Share In Owned-condo Market
Installed in more than half of newly built condos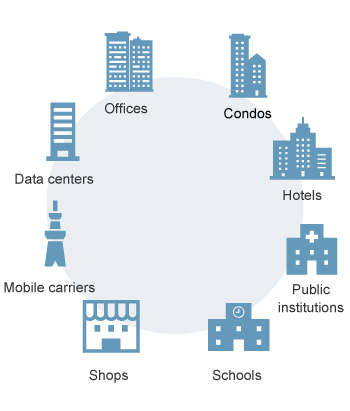 Growth In Rental Condo Market
CAGR for order numbers in the rental condominium
market of Approx. 20%*7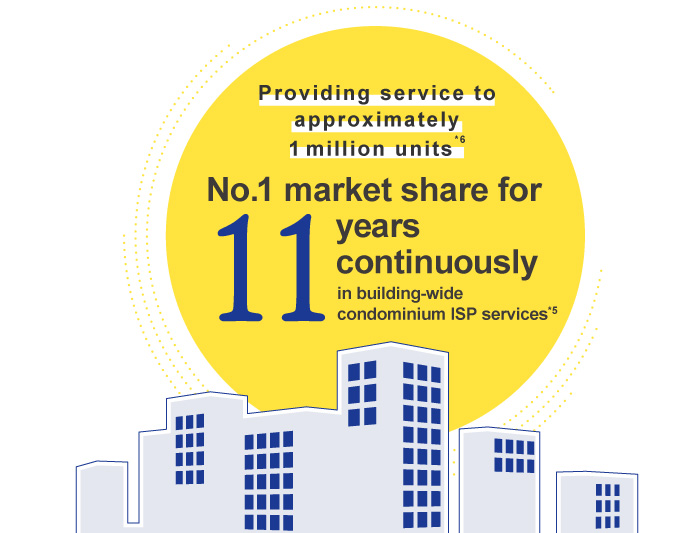 *5 Source : MM Research Institute, whole-building type ISP for condominiums in Japan (March 2022)
*6 Shows the ratio of actual number new orders for ARTERIA's condominium internet services for newly-built condos in 2021 compared to the number of condo units sold that went on sale in major cities in Japan in the same year, published in the "National Condominium Market Trend 2021 (Annual Summary)" published by Real Estate Economic Institute Co., Ltd .
*7 Based on ARTERIA's sales data (number of new orders for ARTERIA's condominium internet services as of June 28, 2022).