History of ARTERIA Networks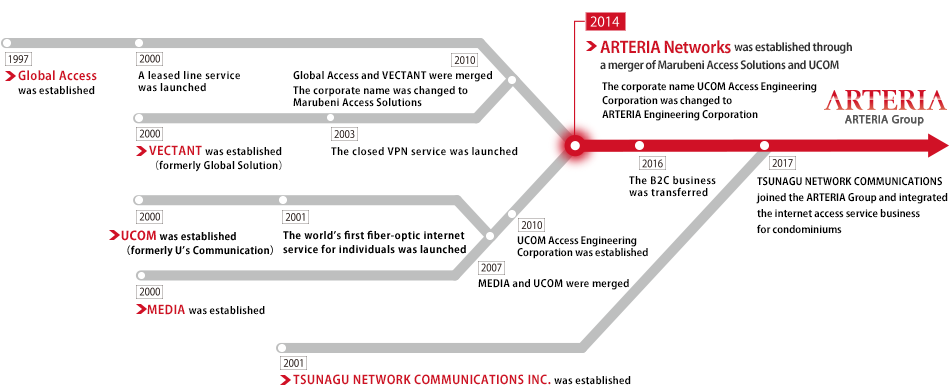 2014

February

ARTERIA Networks Corporation was established by merger of UCOM Corporation and Marubeni Access Solutions Inc.

February

100 Gbps menu was launched in Ethernet leased circuit service,"Dyna Ether".It was the first in Japan to provide 100 Gbps with Dual class at long-range.

April

Fully-owned subsidiaries' name were changed from "UCOM Access Engineering Corporation" to "ARTERIA Engineering Corporation" ,and from "U'sISP Service Corporation" to "ARTERIA Agency Corporation"

December

Brand name of data center services for enterprses was unified "ComSpace"
2015

March

ARTERIA Agency Corporation (a wholly-owned subsidiary) was merged into ARTERIA Networks Corporation.
2016

February

Business of Internet access services for indivisuals was transferred to U-NEXT Co., Ltd.

October

Head Office was relocated to Shimbashi, Minato-ku, Tokyo
2017

March

TSUNAGU NETWORK COMMUNICATIONS INC. became a subsidiary of ARTERIA Networks Corporation to acquire the shares issued from Marubeni Coporation.

November

Integrated internet access service business for condominium of ARTERIA Networks Corporation and business of TSUNAGU NETWORK COMMUNICATION INC., a group company of ARTERIA.
2018

April

"Whole Building Package 10G Type" was added in condominium internet access service.

December

Listed on 1st Section of the Tokyo Stock Exchange
2019

January

10 Gbps menu was established to "ARTERIA Hikari Internet Access"
2020

February

In a first for Japan, succeeded in establishing high speed telecommunications at 400 Gbps between Tokyo and Osaka through two different routes using a single wavelength without regenerative repeating
2021

August

As the first initiative in the DX business, we started providing the "Connectix" service for realizing priority communications for individual condominium units using SD-WAN technology.
History before the merger
UCOM Corporation
Marubeni Access Solutions Inc.
Global Access Ltd.
VECTANT Ltd.
1997

November

Global Access Ltd. was established
1998

April

Type 1 carrier license was acquired
2000

January

Domestic leased circuit service was launched between Tokyo and Ajigaura

February

International leased circuit service was launched between US and Japan

March

Global Solution K.K. was established

March

Data center, "Com Space I" opened in Chuo, Tokyo

April

Type 2 carrier license was filed

July

U's Communication Corporation was established and acquired Type 1 carrier license

December

MEDiA K.K was established

December

NTT East & West Flet's access circuit connection services were launched
2001

March

World first, max.100 Mbps commercial optical fiber internet connection service was launched for individual customers. USEN Broad Networks(current: USEN Corporation) sold.

May

Domestic leased circuit service by backbone network between Tokyo, Nagoya and Osaka was launched

June

Ethernet leased circuit service, "Dyna Ether" was launched

June

Japan's First 2.5 Gbps / 10 Gbps leased circuit services were launched

September

Service area was extended to all ordinance-designated cities in Japan (areas in Sapporo, Sendai, Nagoya, Osaka, Kobe, Kyoto, Hiroshima, Fukuoka, and Kitakyushu Cities)

November

"VECTANT Transit Service" was launched

December

Data center, "Com Space II" opened in Sinjuku, Tokyo
2002

January

MEDiA K. K launched IP telephone service

June

100 Mbps optical fiber internet connection service, "Hikari Business Access" was launched

July

Leased circuit service was launched between Osaka and Fukuoka route
2003

March

10 Gbps Ethernet leased circuit service was launched

September

IP-VPN service "VECTANT Closed IP Network" was launched
2004

April

Complete authorized telecommunications business registration was acquired
2005

January

Ogaki Access Center opened in Ogaki, Gifu

August

Service network was extended in Tohku, Hokuriku and Shinshu area

December

Corporate name changed from "U's communications Corporation" to "UCOM Corporation"
2006

March

UCOM succeeded an optical fiber internet connection service, "Broad-Gate 02(UCOM Hikari)" from USEN Corporation
2007

March

Mobile closed network connection service, "VECTANT Secure Mobile Access" was launched

April

Corporate name changed from "Global Solution K.K." to "VECTANT Ltd."

October

UCOM merged MEDiA K.K
2008

August

UCOM succeeded Mansion ISP business from E-cubic corporation

November

U'sISP Service Corporation became wholly owned subsidiary of UCOM
2009

July

Service area was extended between Tokyo and Ogaki route
2010

February

The WDM ring network in Hokuriku route was completed

May

UCOM Access Engineering Corporation was established as consolidated subsidiary

June

UCOM succeeded internet connection business "Media Independent Interface (MII)" from Mori Building Co., Ltd.

August

Data center, "Com Space III" opened

December

Marubeni Access Solutions Inc. was established by merger of Global Access Ltd. and VECTANT Ltd.
2011

May

IPv6 support services were launched

June

Data center, "Com Space West" opened in Osaka

June

Max. 1 Gbps internet connection service with service level agreement(SLA), "Standard Gigabit Access" was launched

September

UCOM succeeded ISP service business from a fully-owned sales subsidiary, U'sISP Service Corporation
2013

May

Fully redundant and fully closed network connection service, "Secure Cloud Access" was launched

December

IP telephone service, "UCOM Hikari Denwa Business(Hikari Denwa Business)" was launched