Basic sustainability policy
In our "FY2021-2025 Mid-Term Plan" we outlined a management strategy framework with and committed to pursue planet-friendly management by addressing workstyle reform (Hatarakikata Kaikaku), SDGs and developing a basic sustainability policy during FY2021.
Based on this basic sustainability policy the group will aim to contribute to a sustainable world through the provision of telecommunication services, our core business, and other activities.
Outline of the basic sustainability policy
ARTERIA will contribute to a sustainable world through our proprietary network assets and flexible and agile services. Through these activities we will realize the dreams of each employee and hopes of our stakeholders as a corporate group.

The following chart shows how ARTERIA will serve as the arteries and heart to convey these priority issues (materiality) to the planet and the other stakeholders to contribute to a sustainable world.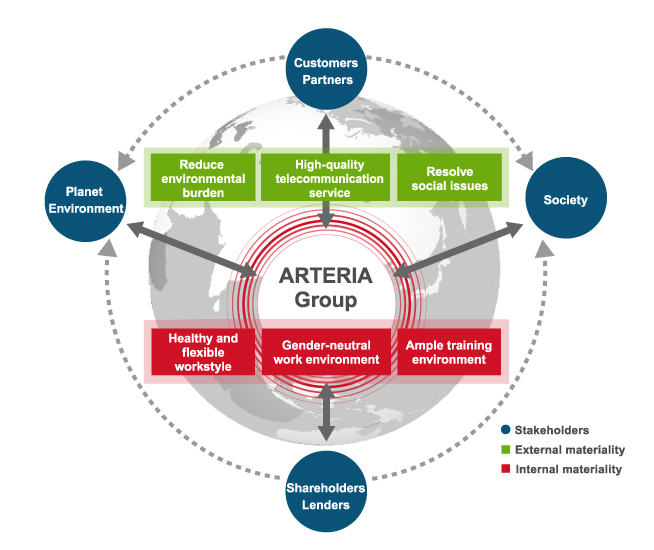 Materiality
The 6 priority issues (materiality) defined in the basic sustainability policy are as follows:
Materiality

Goals for 2030

KGI・KPI

SDGs
mapping

High-quality
telecommunication services

Provide and develop forward-looking services catering to diversified customers' needs and market trends
Ensure a high-quality brand image

- Expand provision of high-quality services

- Develop new services catering to new customer needs

- Maintain high availability for line services

Decrease environmental burden

All group employees will be aware of the climate change risks and implement measures to reduce emission of CO2, proactively and aggressively in both personal and professional settings

- Obtain ISO 14001 certificate, expand scope of application

- Transition company vehicles to electrical/fuel-cell vehicles

- Increase procurement of environmentally responsible products

- Promote volunteering activities

Resolve social issues

Through our various business activities, such as providing high-quality telecommunication services, we will work pro-actively and ambitiously to resolve various social issues

- Expand services in education, health care and public services

- Promote education on telecommunication through internships and endowed chairs

Gender-neutral work environment

Diversify workforce and provide gender-neutral work environment

- Increase ratio of female employees

- Increase the ratio of women etc. on the board and in managerial positions

- Aim to obtain "Platinum Eruboshi" certification

Healthy and flexible workstyle

Enable each employee the flexibility to choose a comfortable place and time to work, depending on their environment
Work in a physically and mentally healthy way

- Aim to obtain "Platinum Kurumin" certification

- Eradicate harassment

Ample training programs

In anticipation of life expectancy reaching 100 years, maintain human resources where each employee, through recurrent reskilling based on their personal life vision, finds their job rewarding and contributes to the company and society

- Promotion and roll out of recurrent reskilling training program
Action Plan & Policy
From April 1, 2022 on we have established a sustainability committee with our CEO as the chair and plan to proceed activities towards the realization of the basic policy.This basic policy was created in cooperation with all our management and employees. Through each employees' respective responsibilities, we will deliver on the promise of this basic policy one step at a time. We will adjust this basic policy accordingly to the ever-changing global climate and the domestic and international environment while we pursue optimal sustainability activities.