Service Overview
ComSpace is a housing and co-location service that allows customers to install their important systems in ARTERIA's data centers.High performance, highly reliable equipment and an extensive range of access options enable us to propose optimal data centers for customers.
Features
An extensive lineup and network services
Services are provided to meet customers' requirements, from 1/4 racks to space units.Customers can select from AC100V, AC200V, and DC48C power supplies, and a host of other options for redundancy, power supply capacity and other aspects. Internet connections can be selected to suit customers' usage applications, including highly cost competitive UCOM Hikari and high quality VECTANT iDC on-site access, with intranet options including the high quality, high bandwidth dedicated Ethernet line Dyna Ether, and the closed connection VECTANT Closed IP Network, which bypasses the internet.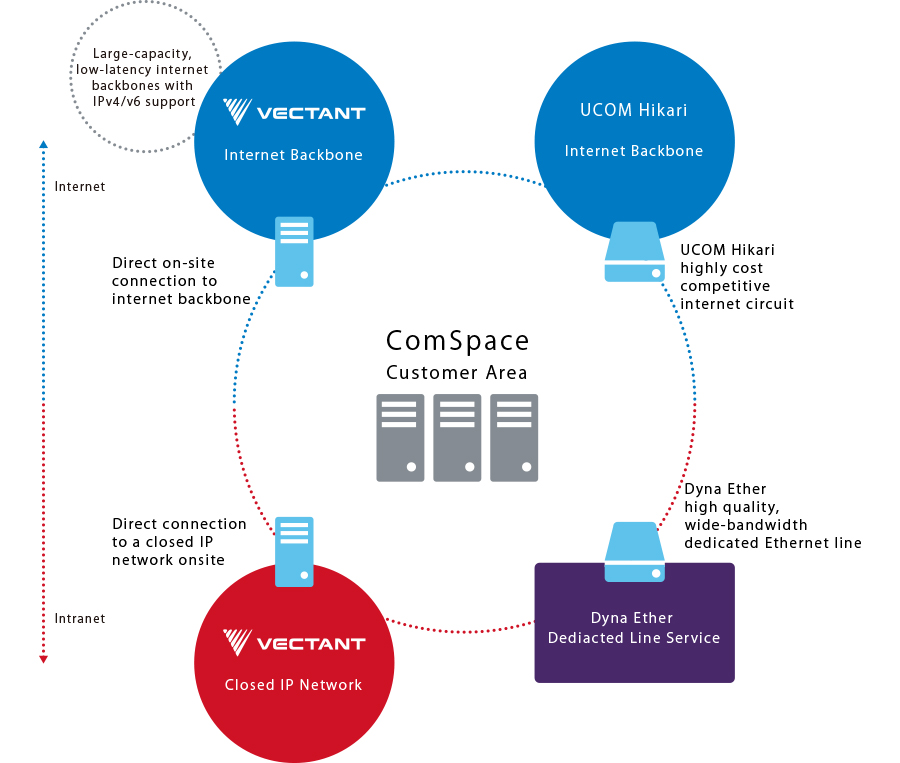 Large capacity external connections
We provide high-speed, high-quality internet services by private peering with major ISPs, peering at main internet exchanges in Japan, and connection with major overseas carriers.
24-hour, year-round support and managed services for peace of mind
Staff are stationed at data centers 24-hours a day, all year round to monitor the status of customers' equipment through a remote hands service. Highly experienced staff provide optimal operation services for customers, reducing the burden of operation.?Important power supply management services at data centers are provided by Net-Moni. Net-Moni measures minute-by-minute power supply usage of each rack and provides notification by email when threshold values are exceeded.?
Some aspects of the services described here may differ at certain data centers.
Convenient access
Data centers are required to provide convenient access. Most ComSpace facilities are located in urban centers with convenient locations not only for ordinary maintenance, but also for rapid response in emergencies.The facilities allow customers to employ better security at a distance that is comparable with in-house facilities.
Reliable operation record
ARTERIA Networks started providing data center services in 2000 and has a strong operational track record. We provide optimal services for customers based on our many years of experience.
Main Usage Applications
Hybrid cloud
This service connects customers' intranets to on-premise clouds and supported cloud services such as Amazon Web Services through completely closed connections that bypass the internet. Closed area connections provide a hybrid cloud environment with high security.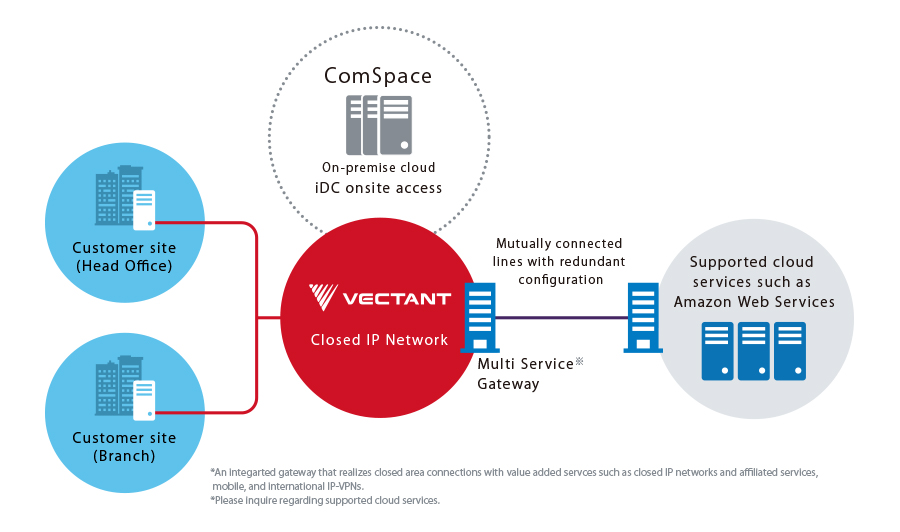 Disaster response measures: Disaster recovery
As a business continuity planning (BCP) measure, we offer a backup data center in Osaka along with our main Tokyo data centers to minimize interruption of IT systems even in the event of a disaster.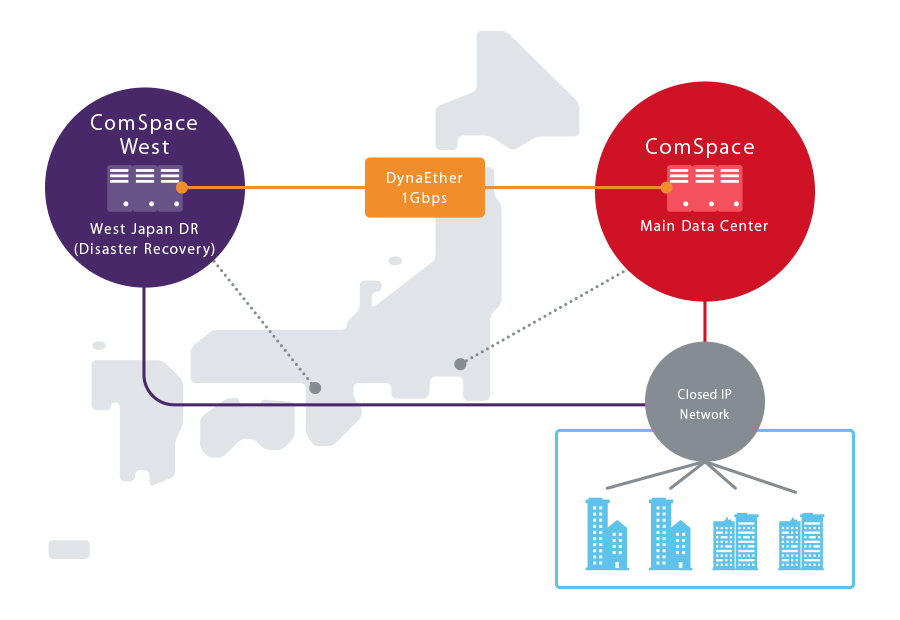 Overview of Data Centers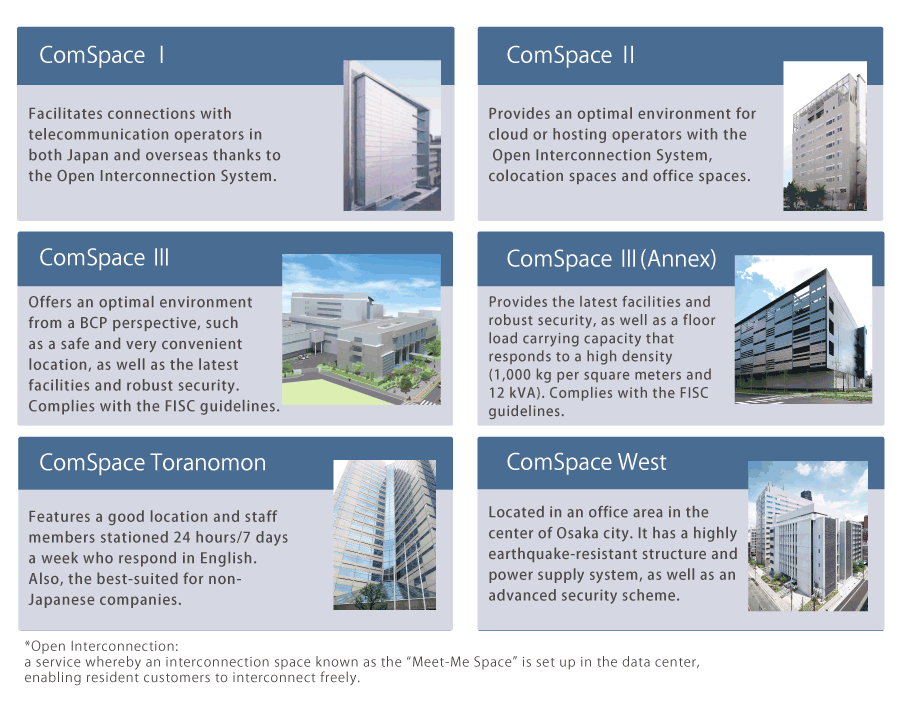 Specifications
ComSpace Ⅰ
ComSpace Ⅱ
ComSpace Ⅲ
Locations
Chuo-ku, Tokyo
Shinjuku-ku, Tokyo
Tokyo
Floor area
3,641㎡
9,336㎡
8,870㎡
Main customers
Network operators,ISPs,data center operators
ASPs, CSPs, MSPs, hosting service operators
General companies, cloud service operators, ISPs
Power failure response measures
Power receiving method
High voltage two-system reception (main line and standby line)
Special high voltage spot network three-system reception
Special high voltage two-system reception (main line and standby line)
Receiving voltage
6.6kV
22kV
66kV
On-site power generation for emergencies
Gas turbine generator (continuous operation for up to 12 hours)
Gas turbine generator (continuous operation for up to 24 hours)
Air-cooled diesel generator (continuous operation for up to 48 hours)
UPS configuration
Common standby redundancy method (N+1) configuration
Common standby redundancy method, (N+1) configuration
Common standby redundancy method, (N+1) configuration
Fire countermeasures
Fire prevention equipment
Gas fire extinguisher (nitrogen gas)
Gas fire extinguisher (argonite gas)
Gas fire extinguisher (nitrogen gas)
Fire detection
Smoke detectors,Ultra-sensitive smoke detectors, Heat detectors
Smoke detectors, Heat detectors
Smoke detectors, Ultra-sensitive smoke detectors, Heat detectors
ComSpace III (Annex)
ComSpace
Toranomon
ComSpace West
Locations
Tokyo
Minato-ku, Tokyo
Osaka-shi, Osaka
Floor area
7,287㎡
6,000㎡
8,477㎡
Main customers
General companies,cloud service operators,ISPs
Network operators, data center operators
General companies, cloud service operators
Power failure response measures
Power receiving method
Special high voltage two-system reception (main line and standby line)
Special high voltage spot network three-system reception
Special high voltage two-system reception (main line and standby line)
Receiving voltage
66kV
22kV
22kV
On-site power generation for emergencies
Air-cooled diesel generator (continuous operation for up to 48 hours)
Gas turbine generator (continuous operation for up to 24 hours)
Gas turbine generator (continuous operation for up to 24 hours)
UPS configuration
Common standby redundancy method (N+1) configuration
Common standby redundancy method (N+1) configuration
Parallel redundancy method
Fire countermeasures
Fire prevention equipment
Gas fire extinguisher (nitrogen gas)
CO2 fire extinguisher,Two-stage dry-pipe injection sprinkler
Gas fire extinguisher (halon gas)
Fire detection
Smoke detectors,Ultra-sensitive smoke detectors,Heat detectors
Ultra-sensitive smoke detectors
Smoke detectors, Ultra-sensitive smoke detectors,Heat detectors