Service Overview
A multipoint connection service to connect multiple LANs over layer 2

With ARTERIA Networks' high quality, super high speed circuit serving as a backbone, this wide-area Ethernet service enables easy, low-cost construction of a wide-area, high-seed network with outstanding reliability, economy, and flexibility.
Features
Protocol free
Can be used as a central platform to support various network services.
Multipoint connection
A high quality network using our own large-capacity backbone network.
Easy LAN connection
The service enables multipoint full-mesh communications over layer two.
Flat, economical pricing
The Tou-Mei-Han area (comprising the Kanto, Chubu, and Kansai areas) is treated as a single relay area with discounted pricing.
Conceptual Image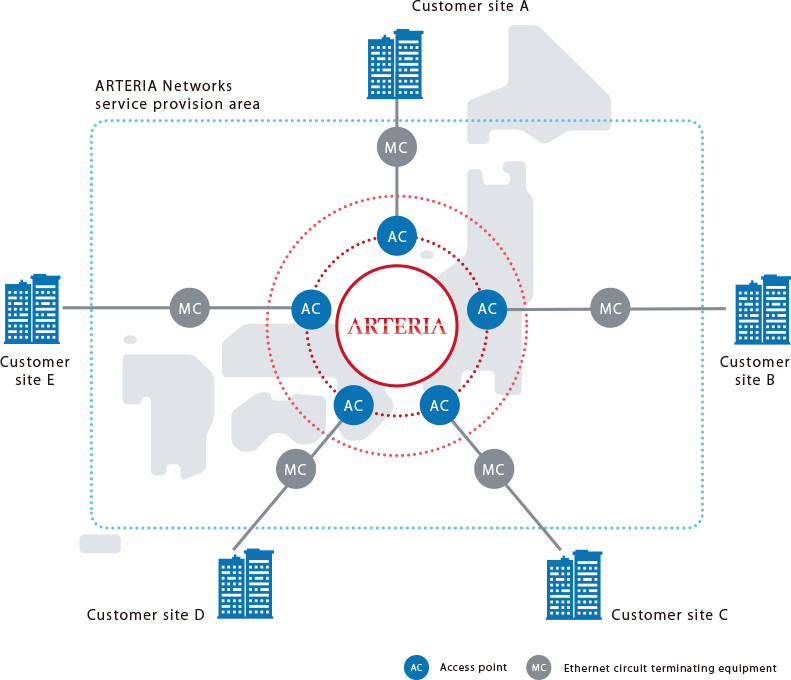 Specification
Interfaces and Service Type
| | |
| --- | --- |
| Interface | 1 Gbps (1000-BASE-LX, SX) |
| Service Type | 200 Mbps—1 Gbps |
Other Options
We offer a QoS service.
Please inquire regarding 2G—10G by 10GBE (10GBase -LR-ER).
Plans and Pricing
Pricing Structure Image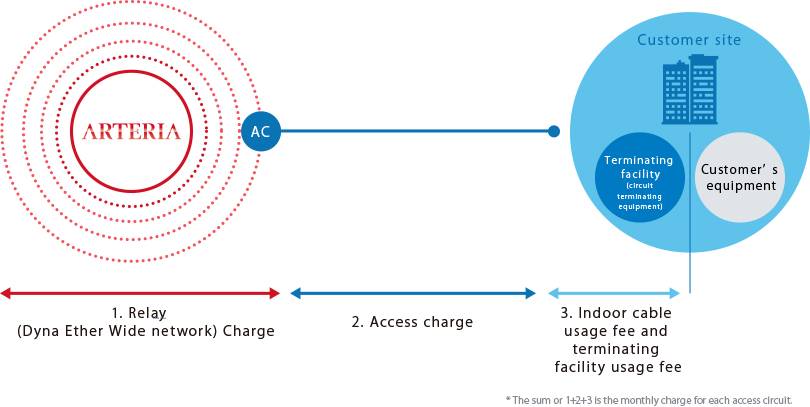 Relay (Dyna Ether Wide network) Services
Tou-Mei-Han area

A discounted "Tou-Mei-Han price" applies to customer sites located in the Kanto, Chubu, and Kansai areas.

・Kanto Area: Tochigi, Gunma, Ibaraki, Saitama, Chiba, Tokyo, Kanagawa, and Yamanashi Prefectures, and Eastern-Shizuoka Prefecture
・Chubu Area: Aichi, Mie, Gifu, and Nagano Prefectures, and Western-Shizuoka Prefecture
・Kansai Area: Shiga, Kyoto, Osaka, Hyogo, Nara, and Wakayama Prefectures
Other areas

"Other area" pricing applies to customer sites that are outside the above areas.
Access
Access provided by ARTERIA

Connect to a dedicated Ethernet line or wide-area Ethernet provided by ARTERIA.
Charges differ depending on the connection type and area.
Access provided by other company

Please consult with an ARTERIA sales representative.
Maintenance System and SLA
Maintenance System
Year-round, 24-hour response to customer faults
Prompt notification to customers upon detection of a fault
Even if access is provided by another company, we provide a contact window and full fault recovery support,.
SLA (service level agreement)
Network delay time

When the monthly average transmission delay time in an area designated by ARETERIA exceeds 30 milliseconds, we refund 10% of the monthly relay charge.
Fault recovery time

If a fault lasts for more than 44 minutes, we refund a portion of the relay charge according to the recovery time as follows.
| Total non-operating time | Reduction in monthly basic charge |
| --- | --- |
| From 44 minutes to under 2 hours | 10% of monthly relay charge |
| From 2 hours to under 4 hours | 20% of monthly relay charge |
| From 4 hours to under 6 hours | 30% of monthly relay charge |
| From 6 hours to under 8 hours | 40% of monthly relay charge |
| From 8 hours to under 72 hours | 50% of monthly relay charge |
| More than 72 hours | Total monthly relay charge |
Availability (operation rate / cumulative fault time)

A portion of the relay time will be refunded if the cumulative fault time is 44 minutes or longer, according to the cumulative fault time.
| Total non-operating time | Reduction in monthly basic charge |
| --- | --- |
| From 44 minutes to under 2 hours | 10% of monthly relay charge |
| From 2 hours to under 4 hours | 20% of monthly relay charge |
| From 4 hours to under 6 hours | 30% of monthly relay charge |
| From 6 hours to under 8 hours | 40% of monthly relay charge |
| From 8 hours to under 72 hours | 50% of monthly relay charge |
| More than 72 hours | Total monthly relay charge |